Clover® Point of Sale System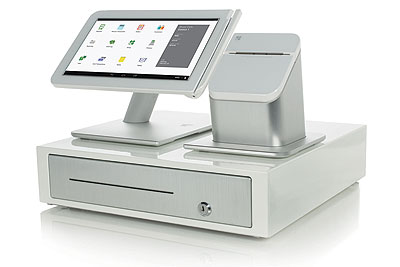 Clover® Station's cloud-based software enables you to manage your inventory, track revenues, and generate reports-empowering you to see inside your operations and work smarter.
* Requires Monthly Service with First Data in order to activate - $39.00 per station per month
Introducing Clover Mobile
Buy One Get One Service Offering, Add a Clover® Mobile POS for Every Clover® Station and get the $29.95 Monthly Service for FREE!
Clover® Mobile is a full-featured POS in a pint-sized package. Clover® Mobile is much more than just a credit card reader. You get all the business-building features that Clover® is known for, the ability to add optional applications to customize your system.
More Information
Clover® App Market
Clover® Station Sales Sheet
View Demonstration

Clover® comes pre-configured out of the box, but we don't stop there. Since it was built on an open platform, your business can expand its capabilities by downloading apps and features from the Clover® App Marketplace. Tap into the growing community of developers who are constantly adding new apps and features to the Marketplace that can help streamline and grow your business.
Quick-service restaurants
You know the "quick" in "quick-service" is no joke. You & your employees work fast. You need a system that takes cash and credit cards, is super-easy to use, maximizes order throughput, and won't go down when the internet does. If we're getting greedy about it, please make it pretty, because it's right there on the counter.
Full-service restaurants
You've got tables and a maybe a kitchen that could use its own printer. You need to be able to assign and re-assign those tables, split payments, add tips, run employee-level reports, and perform a whole host of other functions that a lot of other businesses don't have to deal with. Those lucky dogs.
Specialty Retail
You've got a store - maybe two or three. No, you're not The Gap (yet!), but you've got employees and inventory, and you're spending more time tracking it all than you'd like to. You can't be there all the time, but you definitely always want to know what's going on. And you want a way to identify and recognize your top customers, no matter who is ringing them up.
Clover® POS Features and Specs
Easy to Use
Intuitive setup for quick employee training
Offline mode - process even when the internet is down
On-screen signature capture and marketing opt-in
Ability to email, text, or print receipts
Menu changes sync across all devices in real time


Bundle Includes
Clover® Station /w Built-In Card Reader, White
Cash Drawer, White
Thermal Receipt Printer, White
Welcome Kit and Setup Guide


Specifications
11.6" high resolution touchscreen attached to a 11"x7.5" base plate
Encrypted card swiper built into touchscreen display
Quick speed thermal receipt printer (6.89" x 6.89" x 6.94")
Coordinated cash drawer (16.54" x 16.54" x 4.25")


General Hardware
Brushed aluminum touchscreen display with white glass accents
Patent-pending swivel arm rotates screen 180o
Ethernet and WiFi enabled
Single power source for display, thermal printer, and cash drawer
1 year manufacturer warranty
The Clover® trademark and logo are owned by Clover Network, Inc., a First Data company.
All other trademarks, service marks and trade names referenced in this material are the property of their respective owners.