First Data FD55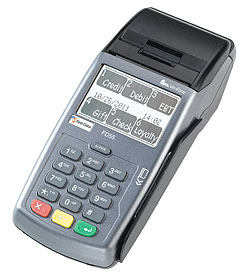 The First DataT FD55 terminal is an economical point-of-sale terminal that enables merchants to accept virtually every merchant services payment option. This space-saving device is compatible with many standard peripheral devices. With the addition of optional equipment, the FD55 terminal can also accept paper or electronic checks.
The FD55 terminal has the latest fraud detection and prevention technologies built right in to keep your customers safe and your business compliant with industry guidelines. First Data's new TransArmor® solution offers a layer of protection previously unavailable anywhere on the market. This innovation combines encryption with tokenization, which completely removes card information from your environment so it cannot be used for fraud.
At a speed of 18 lines per second, the device's built-in printer powers through text for fast checkouts. It's built for jam-free operation, and it's a snap to reload-just open the cover and drop in the standard-sized credit card paper roll.
More Information
First Data FD55 Sales Sheet
First Data FD55 Manual
First Data FD55 Demonstration

First Data FD55 Features
Connectivity-IP with dial-up backup
Sturdy, compact construction (3.6" wide, 2.9" high, 8.4" long)
Security-Secure Sockets Layer (SSL) encryption; MasterCard PTS-certified;
LCD display-128 X 64
Thermal Receipt Printer-18 lines per second, virtually jam-free
ARM11, 32-bit CPU core, 400 MHz
Three-track magnetic stripe reader
Memory-128MB Flash/32MB SDRAM
One USB port