First Data FD100ti /w PIN Pad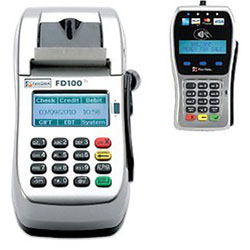 The First DataT FD100 TI terminal allows a merchant to accept virtually every payment option, includes the FD-35 PINPad which accepts PIN based debit paymentsand signature debit cards, all major credit cards, gift and EBT cards. Customers can insert their chip card into the EMV card reader, tap their contactless card, or swipe a traditional card through the magnetic card reader - all without relinquishing control of their card.
With the new smaller footprint and sleek titanium design, it delivers high-quality credit card processing and, by using newer technologies, provides a safe, secure Internet protocol (IP) and backup dial platform.
At a speed of 18 lines per second, the device's built-in printer powers through text for fast checkouts. It's built for jam-free operation, and it's a snap to reload-just open the cover and drop in the standard-sized thermal paper roll.
More Information
First Data FD100TI Sales Sheet
First Data FD35 Sales Sheet

First Data FD100TI Features
Includes EMV Capable FD35 PINPad
Printer: Integrated, drop-in and accepts 2 1/4" X 85' standard thermal paper.
Security: Secure Sockets Layer (SSL) encryption; MasterCard PTS-certified;
Display: 128 X 32 graphic Liquid Crystal Display
Three-track magnetic stripe reader
Memory: 32Mb of RAM and 128Mb of Flash